How to Apply Acetone Soluble Bald Caps
T
O APPLY MICHAEL DAVY'S WATER-MELON ALCOHOL PLASTIC BALD CAP CLICK HERE
TO APPLY MICHAEL DAVY'S PROFESSIONAL PLASTIC BALD CAP...

Flatten hair with Non Alcohol Hair Fix Gel and position the cap on the head. Cut out the ears and glue the edges around the hairline using Prosthetic Adhesive (Acrylic Emulsion Adhesive) or Spirit Gum.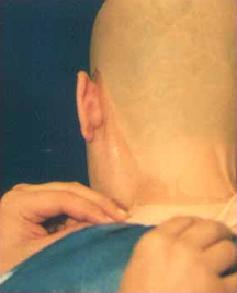 Dip a brush in acetone and place it on the edge of the glued area. Allow the acetone to dissolve the cap and as it dissolves, slide the brush along the edge of the glue.

As the cap dissolves, pull the excess cap away like a zipper. Do this around the entire cap's edge.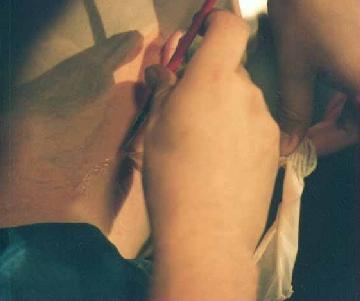 TIP: Dissolve the cap into the glued area which should be about ½-inch wide. Then stipple the latex over the exposed glue. This will help prevent the cap from "creeping" while it is worn.
To make the cap even more durable, stipple 1 or 2 coats of thin liquid latex over the entire cap and about ¼-inch to ½-inch beyond the edge of the cap, onto the skin.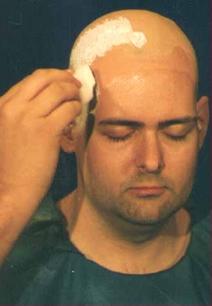 Allow this to dry completely, and powder the entire cap.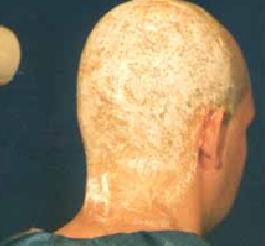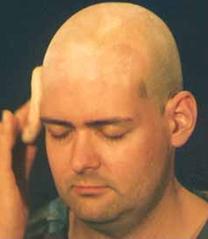 Finish by applying the foundation. We are using Airbrush Grade Prosthetic Cosmetic but you can also use our Make Up Effects Paint (PAX), or Water Soluble Prosthetic Cosmetic. Powder to set.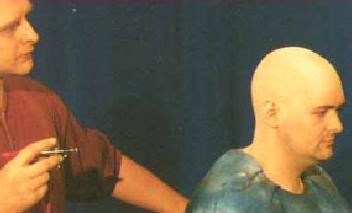 TIP: When painting, try to add contouring with highlights and shadows or add a stubble effect by applying a highlight to the hairline and then add stubble with a stipple sponge.
To help flatten the hair, place a nylon wig cap over the hair and saturate the hair through the wig cap with hairspray. Allow to dry with a blow drier before removing the wig cap.